When it comes to pre-production for video projection, Clem is one of the best at this of anyone I know. As a Freelance Projectionist we often times take for granted that we are receiving the right gear on a show to do the job. Then, come to find out, we're missing the correct mounting hardware, or we have the wrong cable lengths, etc. This is the last thing we want to happen for a timely load-in.
What Clem has done with his processes, is take this worry out of the equation. With detailed information, including cabling, projection distance, projector layout measurements, along with pre-show client interaction, you will have more information than you would ever have thought to have right at your fingertips. His impeccable ways make for a dang near flawless and low stress load-in. As well, his willingness to answer your calls and messages in a very timely manner are greatly appreciated.
Thank you Clem/CLEMCO.AV, for all you have done for me!
Clem's gift as an educator can not be overstated.  As I pursue Projection as a career; his mentorship has been paramount in the progress I've made thus far. His learn by doing model has been a tremendously powerful tool for me.  I have brought on several high end clients in the last year and do so with the confidence that I now have a greater foundational understanding of the landscape of projection.  Moreover it's the intangible insights that he's shared with me that have been the secret sauce.

I have been working with Clem for over 10 years and have seen his growth as an industry leader in both trade and passion. Clem understands that succeeding in the production industry is more than just knowing the gear… its knowing the people as well. You see that through his work on The Production Channel, a blog and podcast that he personally helps lead and bring stories from the industry to the industry.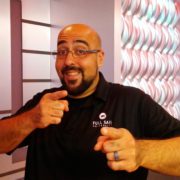 Over many years and countless freelance jobs together, I have never seen Clem pass up an opportunity to help train and guide those in need. From fully explaining the duties of a job down to a motivational conversation, I know many people that have Clem to thank for their success, at least in part, including myself.